BLAZING PADDLES CANOE ADVENTURES FOR YOUR WHANGANUI RIVER JOURNEY
Create your own unforgettable journey down New Zealand's iconic Whanganui River.
As from September 1st 2018, Blazing Paddles Canoe Adventures is being operated by Glenn and Raewyn Martin. The business has moved 200m north to 985 State Highway 4, Piriaka.
We are looking to position ourselves as the company of choice for larger groups (14 seat and 11 seat vehicles) – and will guarantee you will not have to wait for any others, both at the start and finish of your journey, when you book for six or more.
From our base in Taumarunui in the Central Plateau of New Zealand, explore some of the many attractions to our incredible scenic area including canoe adventures to suit your timeframe. From our super quick splash and dash to the unforgettable Ohinepane to Pipiriki five day excursion, contact us to plan your Whanganui River adventure and enjoy our complimentary door-to-river transfer shuttle service.

When booking your unforgettable Whanganui River Journey ask how many others will be being put on with you at the same time. Bigger groups of 20 or more generally get on the river much later, and there's a lot of waiting around at Pipiriki at the end, which is not a lot of fun if its raining.
We've built a reputation of being there early and getting you on the way home much quicker than most operators.
We also offer a car shuttle service for those who are coming from the south. It is only $100 per vehicle to have it transported to Pipiriki and you can set off from home from there – saving you up to two hours being transported back to our Piriaka base.
For more information, download our free information booklet – or email us on glenn@blazingpaddles.co.nz and we will post you a hard copy, along with our safety video.
We are the only Whanganui River canoe operators who are physically on the Te Araroa Trail – you walk right past our gate – and we offer a resupply pick up and drop off service for all Te Araroa Trail walkers, plus great pricing for groups.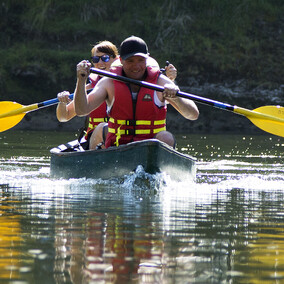 Disclaimer
The purpose is to undertake the activity of outdoor adventures ("Activity") on terms that I am totally personally responsible for the safety and security of myself and any other persons with me, you and your property and amenities on all the terms set out below.
I understand that outdoor activities in the widest sense of the word are potentially dangerous ad agree to indemnify and hold Huntdownunder 2012 Ltd. Trading As Blazing Paddles and any of its Directors, Officers, Owners, Employees or suppliers HARMLESS for any accident, illness, or liability which might occur.